Aprica Zuccobed Easy Touch
Carry baby in four ways! Newborns can be carried while they lie down as the stiff pouch provides all the necessary support. When baby is older and able to support her neck, carry her facing you or facing front. Toddlers can be carried on your back like a backpack. The side buckles are very secure as they require a (simple) two- step procedure to lock in place. The beige straps are made of a soft cotton material which are soft against the skin but expect them to dirty pretty fast. The biggest drawback is that the instructions are in Japanese so unless you know the language, you'll be fumbling and making guesswork out of the illustrations.
Ergo Baby Carrier
A breeze to put on with minimal buckling and tugging at straps. Can be worn in front, back and hip position (baby sitting on your hips). A padded seat you secure around your waist supports the baby's weight through the upper thigh rather than weighing down the spine. as baby is in a seated position. It takes a maximum weight of 18kg so it can accommodate the child from birth through toddler-hood. A sleeping hood keeps the child's head from flopping about when in slumber.
Jeep 2-in-1 Baby Carrier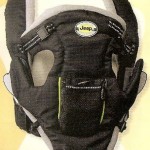 This well-padded carrier can take a baby from 3.5 to 11.5kg, in a forward or back- facing position. For infants, you need to make the crotch area shallower. This is done through a zip that comes in two settings. The front of the carrier has reflective strips making it extra safe when you are out at night. A nice touch is the ventilation flap. For more air circulation, unzip the flap and roll-up the portion covering baby's tummy to reveal a breezy mesh cut-out.
Baby Bjorn Baby Carrier Air
This version of the wildly popular Baby Bjorn is made from a mesh material that dissipates heat and moisture better. You can't go wrong buckling up as the left and right side of the buckles and latches are color coded (match red to red, blue to blue). A sliding buckle at the crotch area allows you to fit the carrier to baby's height for a comfortable and safe ride. It takes a baby from 53cm to 90cm in height and 3.5kg to 11kg in weight. Carries baby in a forward and rear facing positions.
Combi Ninna Nanna Carrier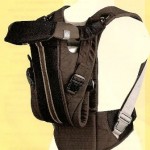 You can carry your newborn in a prone position, upright facing forward, upright facing back and on your back. You can also choose between placing baby's arms within the armholes or letting them free when she's older for more mobility. The fabric on this carrier is luxuriously soft, great for baby and you! It takes a while to figure out how to use it but once you've got it, it should be a breeze switching from one position to another. Comes in a see-through plastic carrying case so it's easy to pack away. Maximum weight is 14.9kg.
Mother-care 4 Way Carrier
Made of super soft cotton, this one carries your baby in a forward or rear-facing position, on the back and in a nursing position. There is a removable head support for use with newborns and comes in a hip camouflage print. Additional features: a dribble bib, toy, pacifier holder and a storage pocket. The carrier uses buckles and velcro to fasten. The latter are a little noisy to undo, especially if baby is sleeping. The breathable fabric lining prevents parent and child from becoming too warm. Maximum weight is 12kg.