Feet Fetish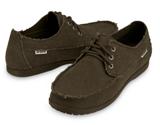 Men's Santa Cruz & Dekum
For the dad who loves chic, comfortable shoes, then Crocs Style, the all-new high fashion
footwear line, would be most ideal. And what's more, it is made from the same Croslitetm material.
Men's Star Chronograph,
Surprise him with a whimsically but elegant and high fashion gift from Shanghai Tang…An exquisite timepiece that adds a touch of exclusivity and intricacy to an otherwise lackluster item. The strap of the Men's Star Chronograph is 100 percent leather and comes in both red and black. A definite must-have!!
Modern Mature Man
D & G Aviator,
Drop-shape, 1970s-style model features a thin, elegant double bridge that makes it particularly current. The front frame is made entirely of metal while the arms are injection-molded acetate, an extremely lightweight and comfortable material. This model is available in black, Havana, beige, white and purple. The lenses are polycarbonate and in the gradient versions, brown and smoke, they are APX.
Vibrantly Versatile
Blackberry Storm
This is the perfect gift for dad who wants to stay connected at all times. Watch your icons dance across the screen under your fingertips. Ignite your senses with the BlackBerry Storm — a revolutionary Smartphone that features the world's first "clickable" touch screen display, designed for accurate typing and fast navigation. An ideal status symbol for the style- conscious consumer, the BlackBerry Storm will make a great impression as you travel across town or to almost any corner of the world.
Fashionably Forward
Jesse James Dopp Kit
Kiehl's will be launching a limited edition kit in June'09, specially designed by JESSE JAMES, a famous motorcycle builder from Long Beach, CA. James designed a men's dopp kit for Kiehl's filled with a selection of his favorites, including the Facial Fuel moisturizer, White Eagle Shave Cream, Ultimate Man Scrub Soap, Facial Fuel Face
Wash, Ult Strength Hand Salve deluxe.