Feet Fetish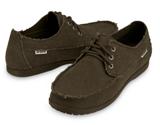 Men's Santa Cruz & Dekum
For the dad who loves chic, comfortable shoes, then Crocs Style, the all-new high fashion
footwear line, would be most ideal. And what's more, it is made from the same Croslitetm material.
Men's Star Chronograph,
Surprise him with a whimsically but elegant and high fashion gift from Shanghai Tang…An exquisite timepiece that adds a touch of exclusivity and intricacy to an otherwise lackluster item. The strap of the Men's Star Chronograph is 100 percent leather and comes in both red and black. A definite must-have!!