You want your baby to have a head start in life, to be an interested learner who is full of curiosity. And there is no doubt that your baby's development depends on the level of stimulation he receives at home. For instance, he is more likely to babble loudly if you speak to him, play with him, sing to him, and tell him stories in the early months in life. Likewise, he is more likely to show an interest in his surroundings if he is given exciting toys that will attract his attention. Your baby responds positively to this sort of stimulation — quite simply, it helps him thrive.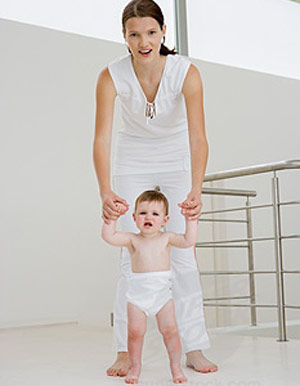 But finding the balance between too little, too much, and just the right amount can be difficult. Under-stimulation of your baby eventually causes him to be passive and lethargic — lack of toys, games, attention from parents, songs and other play activities has this effect. He quickly adjusts to the status of inactivity. And when he does receive stimulation, he doesn't know how to react.
Over-stimulation of your baby, however, can be just as detrimental. The chances are that if you expect too much of your baby, you will continue to expect too much of him when he is older, and he may become afraid of failure. By the time he starts school, he could dread the prospect of not being the best pupil in class. Or you might be so obsessed with his intellectual and linguistic skills that you lose sight of his emotional development.
The Best Approach
Of course you want your growing baby to be bright, lively and alert. Finding a suitable level of stimulation is a challenge for every parent.
The best way to know that you've got a healthy balance is to watch your baby. If he is motivated, has a sparkling facial expression and reacts positively to you when you play with him, you can be sure you've got his stimulation just right.
Here are some suggestions:
* PLAY WITH YOUR BABY EVERY DAY
No matter how hectic your schedule is, you should have at least five or 10 minutes to play a couple of times. More would be ideal, but this should be the minimum.
* DON'T FORCE YOURSELF TO PLAY WITH YOUR BABY
If you've had a long, hard day with your baby and feel too tired to play any more with him, then stop.
* ALLOW HIM FREE PLAY
He needs to have times during the day when he explores, plays and discovers by himself, without your involvement or direction. Make sure he has free-play opportunities every single day.
* WATCH THE WAY HE PLAYS WITH TOYS
If you notice that he tends to play with the same toy every single day and that his play is repetitive and lacking adventure, it's time to get more involved in order to extend his play skills.
* JOIN IN WITHOUT DOMINATING
When stimulating your baby, remember that there is a difference between playing with him and taking over altogether. Offer new suggestions and activities but let him be the one who plays with the toys, not you.
Both you and your baby should enjoy your involvement with each other. If the fun goes out of play — either for you or your baby — there may be either too little or too much stimulation.